By: Sonji Branch, Chief Executive Officer
I'm pleased to announce that our organization is part of an unprecedented gift from philanthropist MacKenzie Scott to the national Communities In Schools Network. Communities In Schools of Memphis (CISM) is one of two Tennessee affiliates of the national organization benefitting from the donation.
In a time when the global pandemic has created unparalleled challenges for students and families, including experiences of social isolation, economic crisis, stress, and trauma, this investment will help us carry out our cause to ensure every student has what they need to succeed.
Nationally, this $133.5 million total investment will provide tremendous fuel for impact, infrastructure, and the people working inside schools by expanding the proven Communities In Schools model to help students overcome obstacles in learning and life. However, it does not change the reality of the continued work ahead and the need for strengthening public and private partnerships.
Through your support, collaboration, and partnership, CISM has been serving students and families across Shelby County for eight years, with a team of 19 specialists who support more than 8,000 students working directly inside 21 schools. By identifying the points of challenge for students in their personal lives, such as food, bedding, school supplies, clothing, transportation passes, and much more, our staff helps to empower students to move beyond the barriers they face in the school building and the community.
While additional funding is essential to fulfilling our ambitious four-year strategic plan, this contribution brings CISM one step closer to achieving its goals by 2025, including expanding to 30 campuses, serving 45,000 students with whole-school supports, offering individual case management for over 4,000 students, and assisting nearly 600 families through Care Coordination. More specifically, this donation will enable us to make significant investments to help create viable pathways for students to pursue careers after high school through partnerships that provide access to coaching, certifications, counseling, internship opportunities, on-the-job training, and equipment and materials.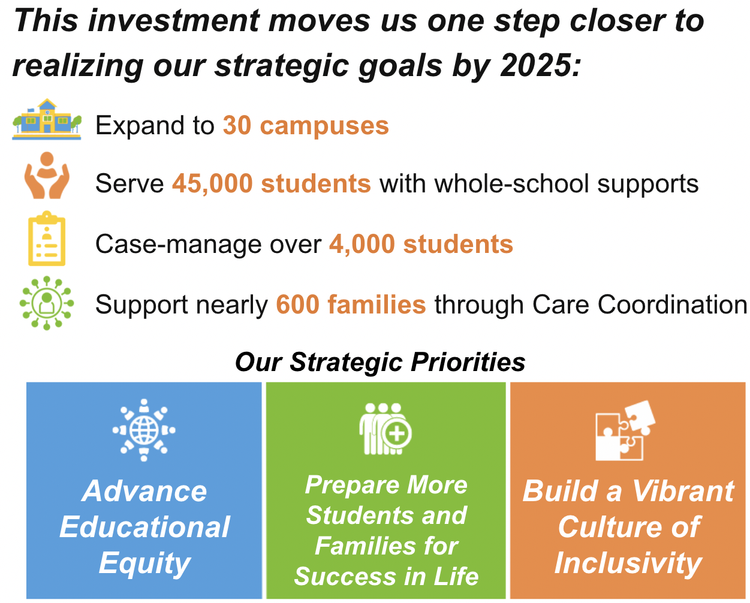 I know that we have a long road ahead as an organization and community, but today, more than ever, I'm encouraged by the steps we're taking to build a stronger future. This investment indicates the opportunities that lie in front of us and the need for more entities to join our cause so we can do more for families across our area.
Now, let's do the best that we can for our students! We love our community, and we will never give up on our youth.
Sincerely,
Sonji Branch
CEO, Communities In Schools of Memphis